Trusted by high-tech manufacturing industries for over 35 years, Magellan Metals is an ISO 9001-certified, industry-leading supplier of titanium and most other superalloys. Our titanium and superalloys are certified to meet most ASME, ASTM, AMS, and military specifications and most international standards, including full DIN EN10204 3.1 certification. We provide custom work, short lead times, timely customer support and quick delivery on all quantities of specialty metal products. We pride ourselves on offering high-performance metals for critical applications and cutting-edge metal fabrication treatment and services to meet your specific application requirements.

Contact us for more information regarding our nickel alloy material options, or request a quote for further pricing details on our premium metal products and metal fabrication services today.

Not finding what are looking for?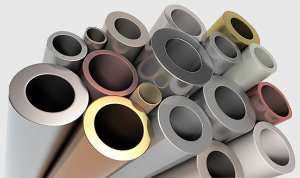 Nickel alloy material sourcing
Available in a variety of material options and formats
See Our Selection Of Nickel Alloys
Industrial Metal Supplier
As a global supplier of premium metals, we offer quick delivery on all quantities of stainless steel products in single items or full bill of material for almost any project. Popular formats of our standard and specialty metals often come in bar, sheet, tube, pipe, welding rod, and other forms. Our industrial metal product offering includes but is not limited to:
ISO 9001 And Additional Certifications
As an ISO 9001-certified, industry-leading supplier of stainless steel and most other superalloys, our metal supply and metal treatment services meet international regulatory requirements to ensure high-quality products and services. We hold certification from some of the most critical design and construction standards from the American Society of Mechanical Engineers (ASME), the American Society for Testing and Materials (ASTM), the AMS and additional military-specific standards. Because we are a global metals supplier, we adhere to even the most stringent
international standards
, including full DIN EN10204 3.1 certification.
Industrial Metal Industries Served
Magellan Metals is a proud supplier of high-quality metal to manufacturers and distributors in the United States and to over 60 countries throughout the world. We work directly with a variety of highly technical industrial clients in need of single bill to high-volume orders on premium metals, including:
Global Aerospace
Oil and Gas
Power Generation
Petrochemical
Bio-medical
Pharmaceutical & More
Why Choose Magellan Metals as Your Industrial Metals Supplier
With over 35 years of industry expertise, Magellan Metals has the industry knowledge and resources to find you the metal products that you need for your specific industry applications. We are in stock and ready to quickly deliver hard-to-find metals, including
Nickel 200®
,
Vascomax 300®
,
Monel 400®
&
Monel K500®
,
Invar 36®
,
Incoloy 825®
, and
Hastelloy c276®
. Our ISO 9001-certified metal supply is one of the most comprehensive selections on the market. We provide timely customer support and quick delivery on all quantities of our in stock products. Our
metal fabrication and treatment
offering includes custom work, age hardening solution, centerless grinding, trepanning and several additional services. We also offer multiple helpful
Measurement Guides
so that you can better understand our product selection prior to placing your order.
Contact Magellan Metals Today
Contact Magellan
by email, fax (203) 838-1300, call us at (203) 838-5700 or
Request a Quote
for pricing on our industrial metal selection. The Magellan Metals team looks forward to serving you!